Operations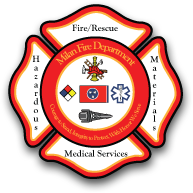 Milan Fire Department
"Courage to Stand, Integrity to Protect, With Honor We Serve"
The Milan Fire Department is a progressive combination (career/volunteer) department comprised of highly trained and motivated professionals, dedicated to providing the highest level of services possible for its citizens. Services provided to the community by the department include: fire suppression, emergency medical services, hazardous materials response, vehicle extrication, and public education and assistance programs.
The Milan Fire Department is currently rated an ISO Class 5. The ISO classes range from one (1), being superior, to ten (10) which offers little or no fire protection. The ISO rating is comprised of several factors such as apparatus, water supply, training, response time, staffing, and communications. The Department is continuously working to improve in these areas.
The Milan Fire Department provides emergency services through two fire stations that are strategically located throughout the city, that provide emergency operations 24/7. All personnel are cross-trained in fire suppression, vehicle extrication, First Responder and/or EMT, and Haz-Mat Operations and/or Technician level.
The Emergency Medical Services offered by the Milan Fire Department was implemented in 1998. The program was the first Fire Department based EMS program in Gibson County, working in conjunction and under the authority of Gibson County EMS. The Fire Department program offers non-transport Basic Life Support care to the community.
Vehicle Extrication (rescue) is a service provided by the department since 1997. Through the use of specialized training and equipment, department personnel are able to quickly provide extrication and medical treatment to trapped victims.
The department responds to all hazardous material emergencies within the City of Milan. The department works closely with Gibson County Emergency Management Agency and the Tennessee Emergency Management Agency (TEMA) to continue to train and prepare for hazardous material emergencies. The department is host of a regional Decontamination Response Team for the State of Tennessee District 9 Homeland Security District.
The Milan Fire Department provides several public education and assistance programs to the local community on a regular basis. Programs include: fire prevention and safety, emergency preparedness, CPR/AED training, and fire extinguisher training. The department provides a special service to senior citizens, in which the department calls and checks on senior citizens in the community on a daily basis. This program is geared towards senior citizens who live alone or with special needs. Another program offered is free smoke detectors and installation to any home owner inside the City of Milan. This program is made available through donations and grants.